Die Grünen visiting Technikum Laubholz
There was a lot to talk about at the Technikum Laubholz during the visit of the green party "Die Grünen" of Baden-Württemberg.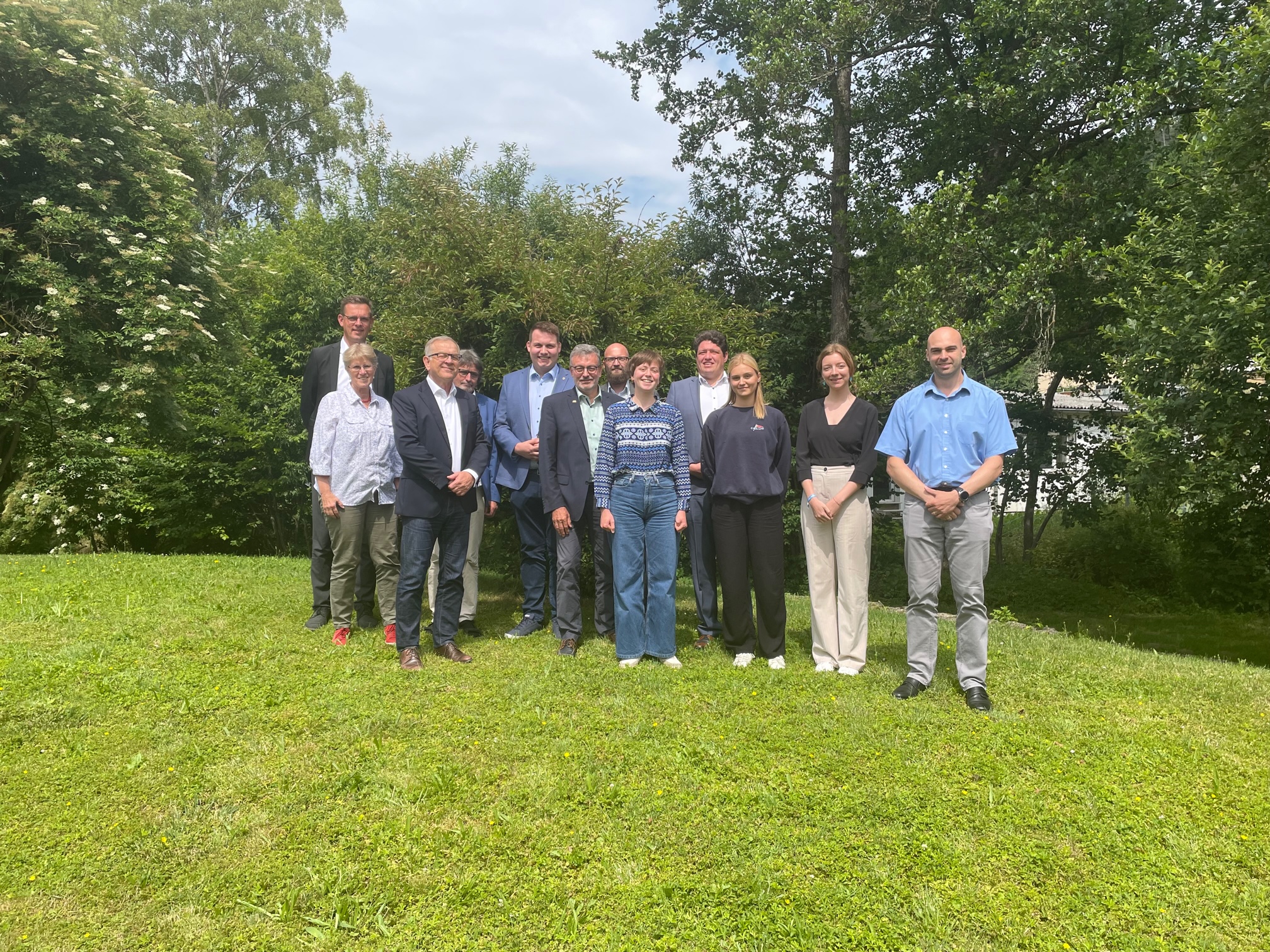 Hanne Niebuhr, Alexander Möndel, Ludwig Lehner, Armin Waldbüßer, Niklas Nüssle, Hans-Peter Behrens, Dr. Stefan Knohl, Annelie Wurz, Michael Joukov, Mieke Nissen, Felicia von Kameke, Dr. Tobias Wolfinger (from left).
Looking better with cosmetics made of wood? Or would you prefer a vegan cheese made of wood? And the question: Can we even afford to do without?

During the visit of die Grünen of Baden-Württemberg at Technikum Laubholz, there was plenty to talk about. Hans-Peter Behrens, Michael Joukov, Armin Waldbüßer, Niklas Nüssle, each member of the Landtag Baden-Württemberg, together with a delegation and a representative of the Ministerium für Ländlichen Raum Baden-Württemberg, Alexander Möndel, came to Blaubeuren to learn more about the work of the Technikum Laubholz.
The possibilities of processes and products around the renewable raw material wood while simultaneously focusing on the highest added value are great. Ludwig Lehner, Chairman of the Board of the Technikum Laubholz, and his colleague Dr. Tobias Wolfinger, Scientific Director, demonstrated the opportunities this offers for society and industry by using impressive examples. This made the work of TLH literally tangible for everyone. The curiosity for further development of the projects of the Technikum Laubholz and for the economic feasibility was aroused. The invitation for further talks has been extended. According to the participants, this offer will be gladly taken up in the future.
TLH is looking forward to it.
Das Technikum Laubholz ist eine neue unabhängige außeruniversitäre Forschungseinrichtung. Wir entwickeln innovative und hochwertige Anwendungen für Laubholz. Differenzierung durch Innovation, Nachhaltigkeit, Individualisierung und Konzentration auf höchste Wertschöpfung.