Inauguration Central Laboratory Blaubeuren
The inauguration of our central laboratory took place on November 30th 2022.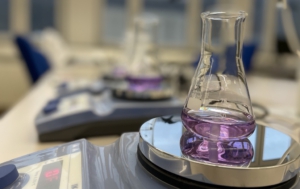 As the backbone of our Research Institute, the Central Laboratory is responsible for analytics, product development, and materials research. 
After the opening speech, there was a short safety briefing, followed by a tour through all areas of the Central Laboratory
In addition to the many devices that were presented, two small experiments conducted by the laboratory team led to wow effects among the visitors.
We are looking forward to further developments and would like to thank the team members involved in setting up the Central Laboratory.
Das Technikum Laubholz ist eine neue unabhängige außeruniversitäre Forschungseinrichtung. Wir entwickeln innovative und hochwertige Anwendungen für Laubholz. Differenzierung durch Innovation, Nachhaltigkeit, Individualisierung und Konzentration auf höchste Wertschöpfung.